Passage Tells: Edinburgh
Passage Tells Project is a series of alternative, site-specific audio-guided walks focusing on one passage in a city. It's composed of recorded interviews with people living along the passage. Passage Tells: Edinburgh is set in the Royal Mile, which used to be the most residential area in Edinburgh, currently known as the heart of the tourist city. The audience will be asked to use their smartphones, wear headphones, walk down on the Royal Miles to hear the everyday life stories of local residents and how they feel about tourists instead of touristic tours.
Please check the requirements below before purchasing tickets. Each person will need to bring a smartphone that meets the listed requirements, has the app 'Passage Tells Project' already downloaded in advance and appropriate headphones that work with the smartphone. You will also have to find out the initial meeting point on the street from the website in the instructions below. Please read these instructions carefully before purchasing tickets.
Date and Time in August 2015
As a part of the Edinburgh Festival Fringe 2015, there are several slots every 30 minutes being sold e.g. 11:30-12:00. If you don't have smartphones/headphones met the reqirements, please join the slots with equipment rentals available.

07 Friday: 1-4pm
08 Saturday: 1-4pm
09 Sunday: 11am-2pm
15 Saturday: 1-4pm (1pm/2:30pm: equipment rentals available)
16 Sunday: 11am-2pm (11am/12:30pm: equipment rentals available)
17 Monday: 11am-2pm (11am/12:30pm: equipment rentals available)

For rental, please bring your ID (e.g. Drivers Licence, Passport, Student ID, Bank Card, Credit Card). We will lend headphones to you by exchanging with your ID for security reasons.
Requirements
Except if you join the dates with rentals available, you will need to use your smartphones/headphones met with the requirement below
1. Smartphone
- An iPhone/iPad/iPod Touch with iOS 7 or later, or Android 4.3 or later (Check version on your smartphone)
2. Headphones
- Verify that the headphones work properly with the smartphone to be used
3. Downloading the app in advance
- After you buy a ticket, please register your contact on Eventbrite. You will get the instructions how to download the app by email soon after the registration on Eventbrite.
https://www.eventbrite.co.uk/e/passage-tells-edinburgh-tickets-18034894856
- We recommend using a WiFi network to download the app to avoid mobile internet charges
- Our member staffs will activate your app at the starting point

Tickets
Please book the ticket (£6, concession: £4) at:
tickets.edfringe.com
Edinburgh Festival Fringe Box Office
There is also a possibility that some tickets would be available for purchase at the meeting point to begin the next start immediately (cash only, subject to availability).
Meeting Point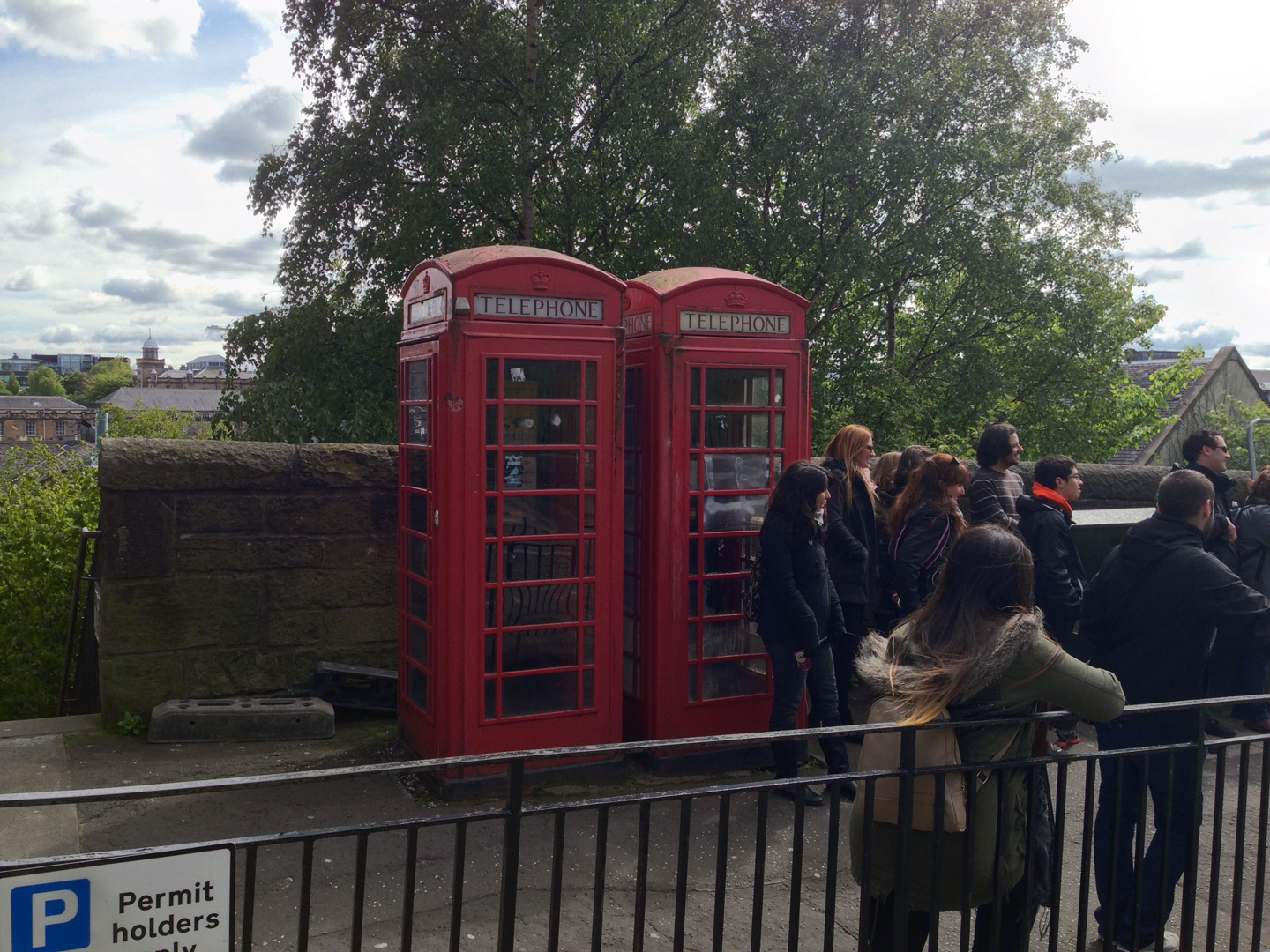 [Show the meeting point on Google Map]
The meeting point is at the two red telephone boxes at the top of the Patrick Geddes Steps on Johnston Terrace. There will be a staff member wearing a yellow t-shirt nearby to greet you; thereafter, you will be asked to confirm your ticket(s) validation and they will activate the app on your smartphone.
Passage Tells Project?
Passage Tells Project is a series of site-specific storytelling experience along a passage in a city, using the local people's actual voices recorded through interviews. Audiences will be able to listen to the voices over headphones by walking along the passage. The sounds they hear will be based on their positions, e.g. if standing by the factory, you hear workers talking and sounds of ore being smashed with a hammer. The passage itself appears to convey stories composed by polyphonic interpretation of peoples' changing lives, emotions and memories under economic, social and cultural changes.

The project uses iBeacons, which is a Bluetooth positioning system for mobile devices that recognises where the user is standing. This system allows people to listen to a sound based on a location. At first, we will lend the audience headphones to experience the event. Later, we will introduce an app version to be available for the rest of the public. 

Team
Director - Daisuke Nakazawa
Daisuke is a performance artist and co-founded Pepin Structural Designs, a performing arts company based in Yokohama, Japan in 1999. He also has nine-year experience working in an advertising agency as a communication designer. Daisuke's work focuses on performative approach to explore and change people's behaviour by activating everyday environments through performaces to play with the roles of an audience and a performer.
http://pepin.jp
Graphic Designer - Maki Ota
Maki is a graphic designer and an illustrator specialised in making image of invisible. She is currently taking a MA in Communication Design at Central Saint Martins to pursue the possibility of illustration. She believes that process of drawing illustration is the way to observe the world, and it can be an approach to unfold stories of people by exposing their subtle movements. "10 Seconds Poetry", her ongoing project captures the short moments and behaviours of Londoners by rotoscope animation.
http://www.otama-ki.com
Composer - MICCI
Born in Japan in 1987, MICCI is a composer and DJ who creates melodious tunes with heavy beats inspired by black music. After he had got his first record and shocked by Mozart's Turkish March, he has been pursuing his DJ practice. He was also influenced by hip-hop and reggae, and Missy Elliott - Get Ur Freak On produced by Timberland deeply impressed him to move on to his activity as a composer. Recently, he has launched a series of DJ event "BORDERLESS" which plays music for overstepping wall of genre, generation, ethnicity and any barriers in the society.
Sound Designer - Kenneth Love
Contact
edinburgh@passagetellsproject.net
+44 7454 758407
(Daisuke)